Free online tools to quickly create images for your blog posts
March 13th 2017
If pictures are worth a thousand words, then how much more would a custom one that doesn't look like it came straight from a stock library be worth? Here are five free tools you can check out to create custom images for your blog posts.
1. Pixlr Editor for that Photoshop-like experience
Pixlr is a suite of apps from AutoDesk, a powerhouse in the Computer Aided Design (CAD) space. While there are several Photoshop-like tools available, the thing that sets the Pixlr Editor apart is that runs entirely within your browser. Despite this, it packs a punch with advanced features such as layers and masking that make it one of our go-to tools when we're in a pinch!
2. Placeit – put your screenshots into a realistic looking stock photo
Take screenshots of your app to the next level by creating images that are in-situ. Placeit is a tool that allows you to upload your screenshots into stock images. Even better, it automatically transforms your image to fit seamlessly.
3. Infogr.am – the easy way to create infographics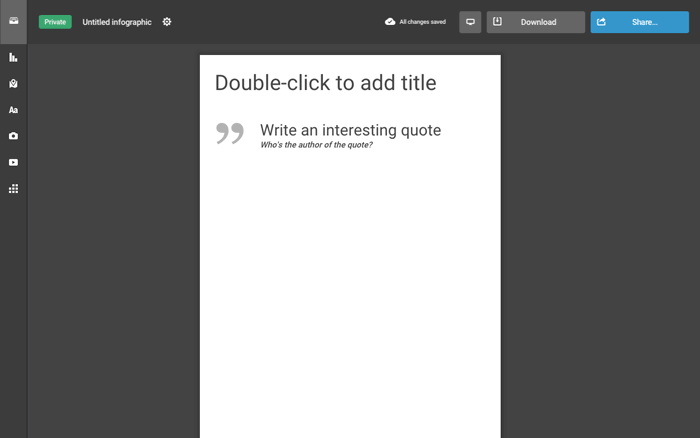 Infogram is an easy-to-use web app that helps you quickly create attractive infographics. With built-in tools that create data visualizations, you don't have to export Excel charts to Photoshop for beautification.
4.Canva – for those who prefer simplicity
Tools that try to replicate the functionality of Photoshop have their place in a designer's toolbox. Canva is different. It was designed from the ground up to be easy for anyone to use. With an attractive UI and clear labeling, even beginners can create beautiful images within minutes. There is an iPad app available too if you're looking to work on the go.
Like Canva, Snappa is a web app that is easy for beginners to pick up. They focus on creating marketing graphics with features like presets for popular social networks and ready-made templates. The free version lets you choose from 30,000+ photos and graphics and download up to 5 each month.
Comments